配置場所一覧 Location
番号
No.
蔵書目録(OPAC)の表示
Indication in OPAC
ご利用上の注意
Notification
㉖
理工学図-書庫2層雑誌
Sci. & Eng. Lib.-Stacks 2F Journals
※「一般」の方は貸出できません。
* Visitors can't check out these materials.
㉗
理工学図-書庫2層NDC
Sci. & Eng. Lib.-Stacks 2F Journals
㉘
理工学図-書庫2層書誌・索引
Sci. & Eng. Lib.-Stacks 2F Bibliographies
禁帯出 ※貸出できません。
*You can't check out these materials.
㉙
理工学図-書庫2層学位論文
Sci. & Eng. Lib.-Stacks 2F Dissertations
㉚
理工学図-書庫2層参考図書
Sci. & Eng. Lib.-Stacks 2F Reference Books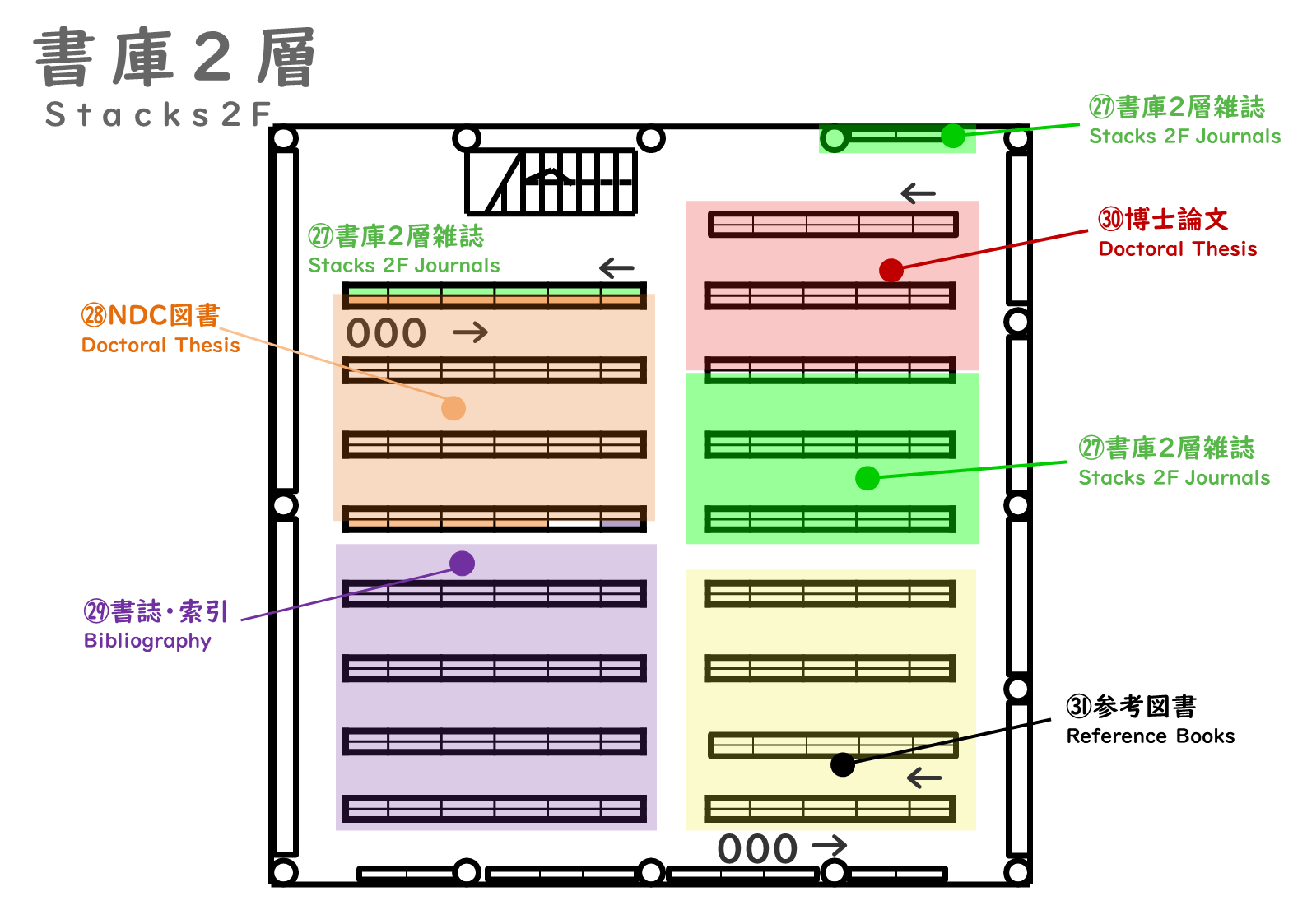 ※書庫の入口は西館2階にあります。
*The entrance of Stacks is in West Building 2F.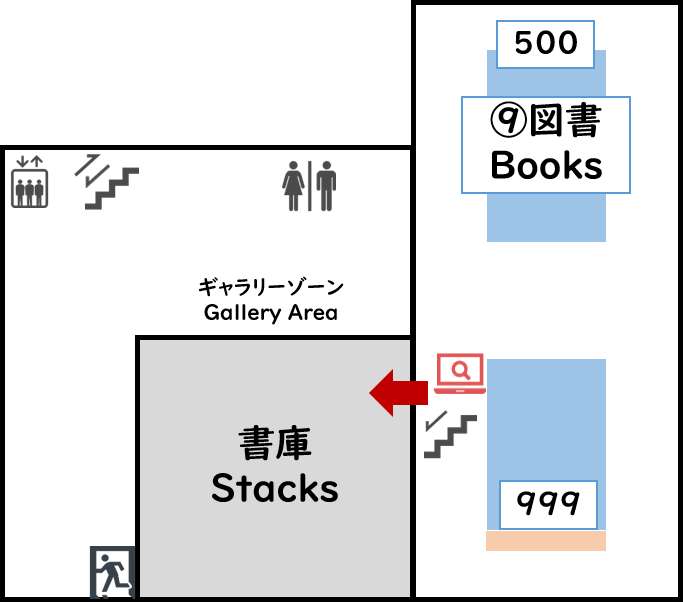 ※書庫2層へは書庫に入って左手の階段を上がってください。
*Please enter the Stacks and go up the stairs on your left to go to Stacks 2F.
位置 Map : 吹田地区/理工学図書館・工学研究科周辺地図 Suita Campus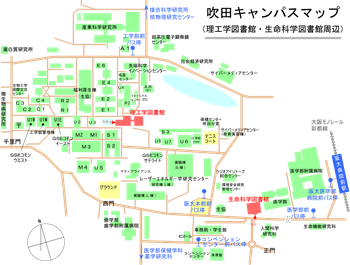 理工学図書館へのアクセス
Aceess
利用 Using the Library
学外の方はこちらをご覧ください。 For Alumni, Visitors
開館時間
Opening hours
休館日
Closing Days
開館カレンダー
Library Calendar
閲覧
Reading
一部資料を除き、自由に閲覧いただけます。
 You can read materials in the library, except some rare collections.
貸出
Check out
学生証・図書館利用者票が必要です。
 Library Card or Student ID Card is required.
館内複写
Photocopy
公費・私費可。
Official use (Faculty's budget only) and private use are available.
※ 私費(現金)の受付:平日9:00-16:45
 Personal expense (in cash) is available only during 9:00a.m.-4:45p.m. on weekdays.
お問い合わせ先 Contact Information
大阪大学附属図書館 理工学図書館
 Science and Engineering Library, Osaka University
〒565-0871 大阪府吹田市山田丘2-1
 2-1 Yamadaoka, Suita City, Osaka 565-0871
TEL: 06-6879-7187 (電話受付:平日9:00-17:00 Tel: 9:00a.m-5:00p.m.,weekdays)
FAX: 06-6879-7190
E-mail:


---
更新日:2022.3.31