Osaka University Library (Main Library, Life Sciences Library, Science and Engineering Library, International Studies Library) is open partially but some services are not available.
Library Service Changes (from June 11)
Services in International Studies Library during the COVID-19 Outbreak
Who is a Learning Supporter (LS)?
Learning Supporters (LSs) are graduate student staff in Osaka University Library. They, who specialize in various fileds, will support your studies at the Learning Support Desks. Feel free to ask them for their support!
Services
Study support at Learning Support Desk
Learning Supporters welcome your questions about studies at the Learning Support Desk in each library. If you are having trouble in understanding what was taught in classes, have no idea what to write for essay assignments, or wondering whether you should go on to graduate school, we are here to help you.
Online Study Support
Learning Supporters have started online study support by using video meeting system. Please check the page below.
About Online Study Support
Creating Pathfinders
Pathfinders are leaflets that introduce useful resources to learn a certain topic. Pathfinders are provided in each library as well as on the website.
Workshops and Guidance
Learning Supporters provide a variety of workshops and guidance that will help students' studies and college life. The topics range from their specialties to general academic skills. The schedule of the workshops and Guidance and the materials of the past workshops and guidance are available on the website.
Recommending useful books
Learning Supporters select, introduce and exhibit books they recommend.
Learning Supporters in Main Library
There are 11 LSs. [2021.10.1~]
Learning Support Desk will be reopened at October 1. Online Study Support also will be resumed at the same day.
Desk Hours
| Learning Commons | Global Commons (English support available) | Studying Abroad |
| --- | --- | --- |
| | | |
Members introduction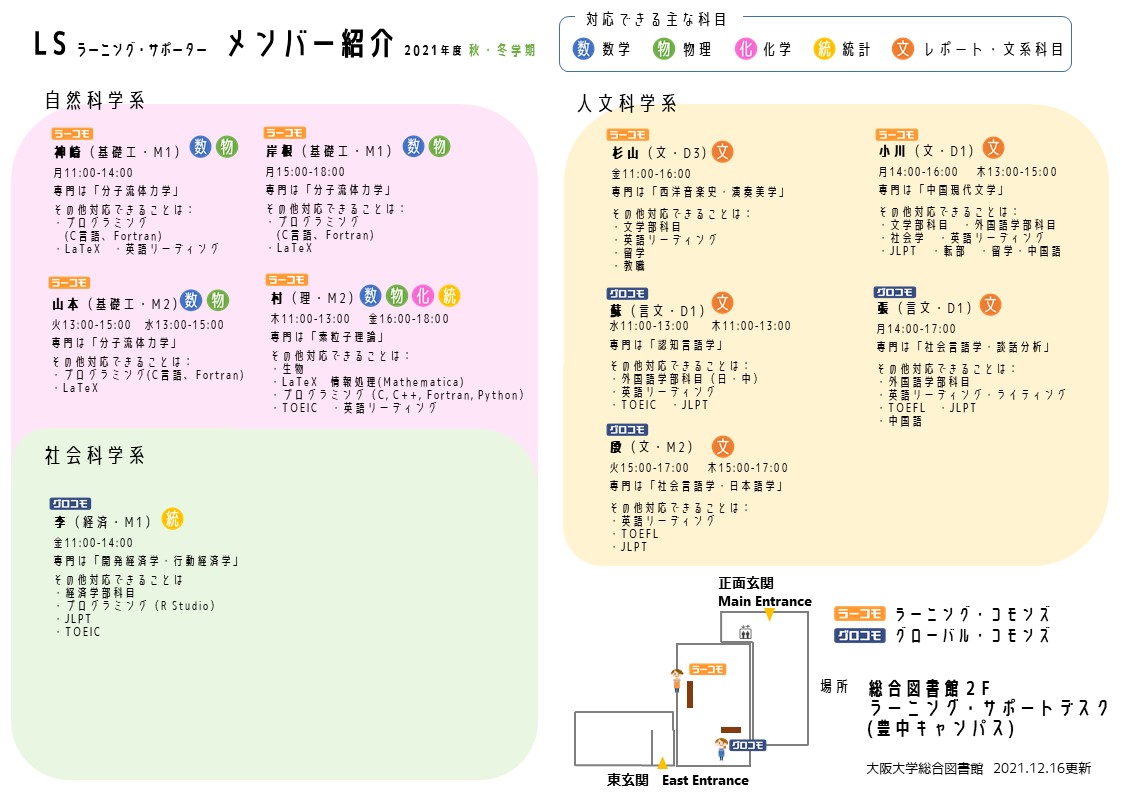 Ask via E-mail
Answered only during LS Desk Hours.

Twitter
Check our twitter to get up-to-date information on events and desk hours!
@LS_OUMainLib
Locations
In the Main Library, there are 2 Learning Support Desks. One in the Learning Commons (2nd Floor of Building B) and the other in the Global Commons (2nd Floor of Building C).
The desk in Global Commons provides supports especially for international students such as JLPT and Japanese writing. Check the poster above to get more information.
※Global Commons is closed now. LSs in Global Commons are also stationed in Learning Commons until Global Commons is restarted.
What the desks look like
Learning Supporters in each library